Obey all rules & you will be fine.
BEWARE OF THESE!
2. Customer
Name: Lee Li Ting
Email Address: litinglee.05@gmail.com
Handphone No.: 81012616
Address: Blk 942 Hougang Street 92
Address: #02-115
Address: Singapore 530942
[EDIT] - 12JAN2011
She emailed me today at 12:17:24AM, warn and threaten me that if I don't remove the personal details, she's going to fill a police report.
Didn't even apologized to us and want us to remove?
But do also know that, ALL blogshops in Singapore are doing the same thing.
I've the right to reveal any personal informations of those who get blacklisted.
Please kindly read the Terms & Conditions before you're thinking of sending in the order form.
Once you sent in the order, YOU HAVE agreed on the Terms & Conditions.
So you've to bear with the consequences.
You are the one that agreed on getting yourself to blacklist too. -.-
Police report aren't going to solve the problem anyway.
[/EDIT]
Alright, I really don't want to blacklist anyone even if you cancel orders. Cancel of orders BEFORE confirmations/having valid reasons or at least TELL me that you're not interested in purchasing anymore before you even rushing me to meet is fine. I won't blacklist you if that's the case!
I was having a fever of 38.6 degree celsius due to an ear infection since 9 January 2011 night, then you expect me to switch on my computer and reply your emails immediately??
Please at least let me have a day of rest? I have a bad headache and need to rest after taking my medicine. If I'm well, I would probably went to school.
Why? As I'm having "O" levels examinations this year, I can't afford to be absent from lessons too much or I would not be able to catch up.
Okay, It's my fault through, I am sorry for reply a little more late than usual(Although 48 hours is still not up!)
Even customers always agreed that if I've arrange any meetup, I must inform all of you beforehand and not on that day itself.
I say that I WILL reply all emails within 48 hours! Please be patience! I was sick from school till today, 11 January 2011.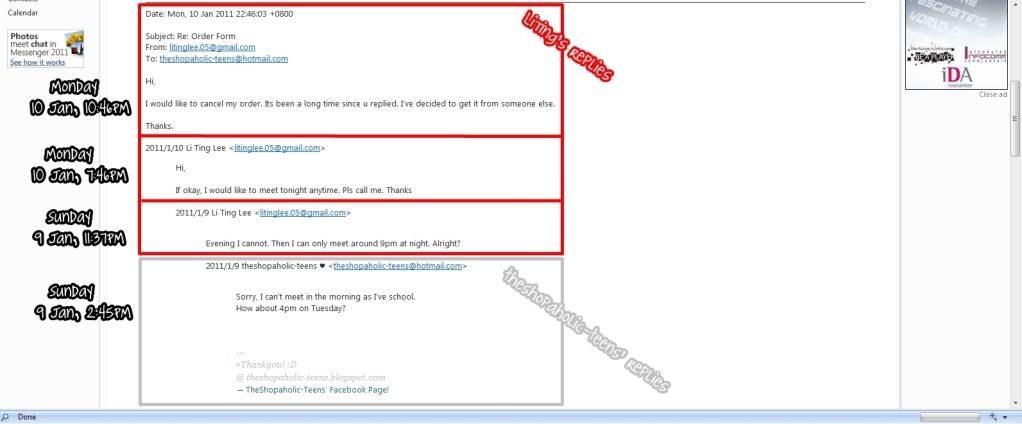 CLICK IMAGE TO ENLARGE!
She kept emailing me, rushing to meet in the morning or at late night about 9pm on 10 January?!
Sorry but I've school in the morning and the only choice is to meet at 9pm as that's what she've requested.
But the problem is I only read the email on 11 January. I can't reply any emails on 10 January as I'm really sick!
& She just cancelled her order just because I replied too late? And she decided to get it from someone else?
What kind of reason is this? I replied all emails within 48 hours.
1 day delay is consider replying late?? I've even waited up to 1 week for a reply from some customers.
All blogshop owners should know this.
But I thought everyone should have their own reasons and shouldn't be their fault also.
On 11 January 2011 morning, after I've read her email, I told her I can meet her today MORNING since I'm still on mc.
I've even willing to meet her in the morning even though I'm sick. What do you still expect me to do?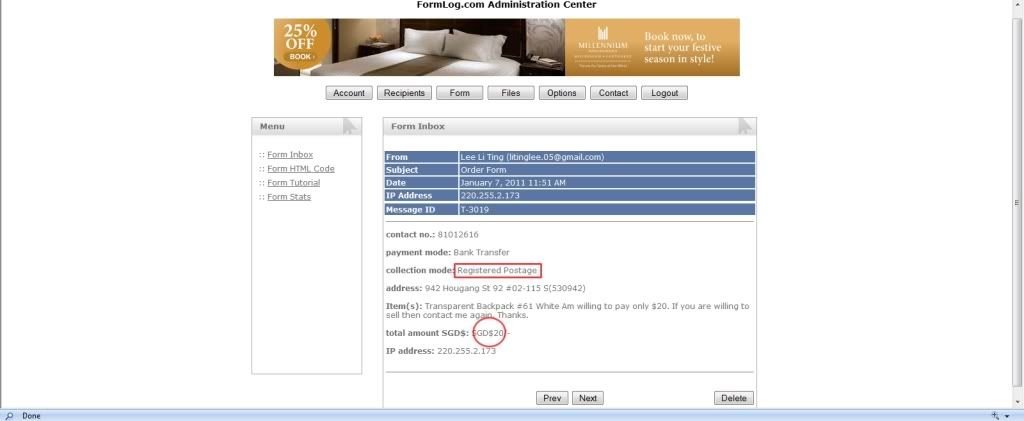 CLICK IMAGE TO ENLARGE!
That's not all.
At first, she sent in an order form to me. Wanting to negotiate the Transparent Backpack #61 - white instock from $25 till $20.
Okay fine, since I'm really short of money and wants to earn fast to pay off my parents' bills.
She even want a Registered Postage?? Should I pay for her or what?
$20 DID NOT include Registered Postage, OBVIOUSLY! duh?
Registered Postage cost around $7 with a bubbling envelope. That means you're getting the backpack at $13 only?
Go and find if you can get a Transparent backpack at $13 only. -.-"
Please customers, don't go overboard with this kind of ridiculous price.
I've NEVER get so angry with any of my customer! Even delaying payments or collection I wasn't this angry at all.
What I most angry was, I did all those packaging and written a receipt, all done nicely already once you confirmed your order and the next moment, you cancelled.
Those packaging(tapes,plastic bags, etc..) and receipt don't need cost any money? Can the written receipt be used again?
Obviously not! Wasted my money! I'm not those kind of person just sell things without any packaging or receipt.
I'm sure customers won't want that too.
I've already dealed with more than a 100 customers in total. Sold more than 500 items. You can ask my customers if you want too. I have some regulur customers coming back buying from me too.
I wanted to earn money for a living. My family currently having financial problems and I hope blogshop really helps the situation I'm in. Not that I open blogshop for fun.
Hope customers will understand this and PLEASE, if you really wants to cancel an order, do it before we've discussed or confirmed the meetups! In this case, I won't blacklist at all, really!
There has been some customers who canceled orders before discussing the meetups and i didn't blacklist them.
If not, the blacklist will be totally FULL. There're too many who canceled order after they sent in the order form.
I blacklisted this person as she wants to. Even though I've been polite to her all the times. 5 times of "Sorry" being said by me to her in emails.
"In that case, you can blacklist me. :)" That's what she said.
& Congratulation! You've been sucessfully added in the blacklist with your personal details shown!
You're the FIRST customer that I blacklist on all the 100+ of customers I have! :D
Written On 11 January 2010, 02:21:25PM by theshopaholic-teens
.
---
1. Blogshop
Blogshop link: http://muddyshop.blogspot.com.
Email Address: mad-cancer@hotmail.com
Handphone No.: 90029167
Firstly, i was bloghopping & saw this blogshop supplying telecoil bands at a rather cheap price.
3 FOR $1?!! Isn't it very cheap? So i emailed to him/her, asking for her supplying rates.
They reply that they do supply! So i trust them and take supply from her.
Because I was living in Hougang, I not very familiar with Suntec City convection hall which they wanted to meetup.
The most important part was not here.
I sent in the 9 orders for telecoil bands the next day as there's many orders!
They replied me in email,"meet @ suntec city convection hall 11am-10pm or city hall 11am."
*Click image to enlarge!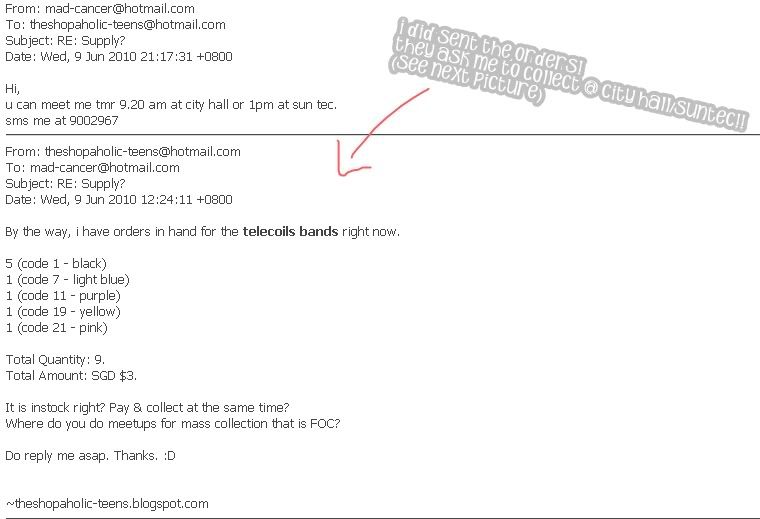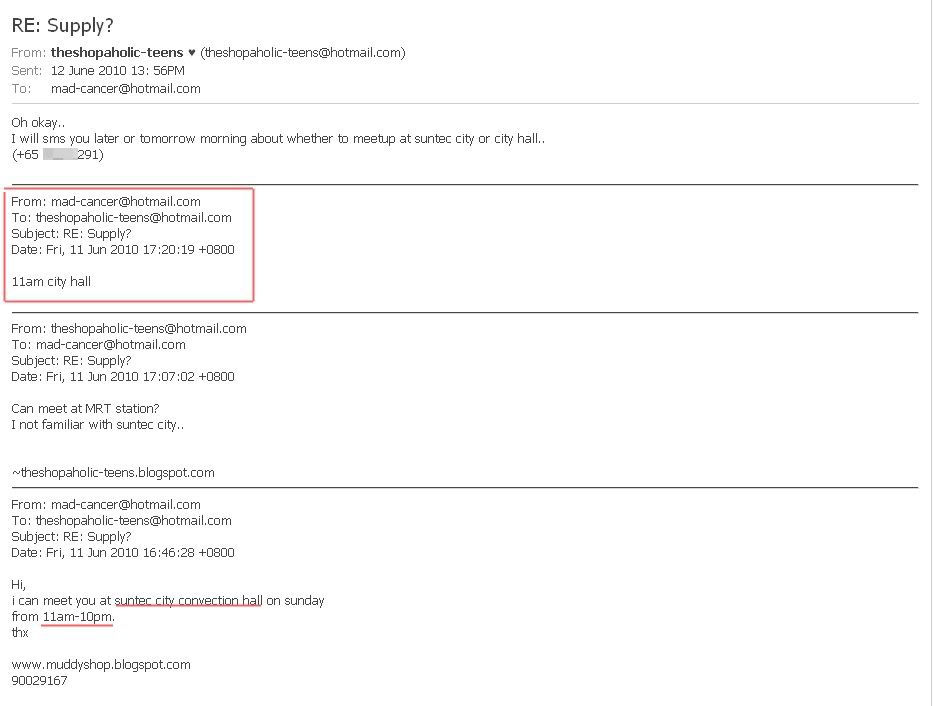 Okay, so i chose City Hall because it would be easier.
It says, "11AM!!" but when i sms them during 12 June 2010 at night 9pm plus,
They changed their mind & said they want it to be 9.40am.
Okay fine. I agreed with them and on 13 June 2010, I reached city hall mrt around 9.23am!
I wait till 9.40am and i sms them that i've reached!
But i sms-ed 4 times + called 1 time, their handphones was on but didn't care to reply/answer!
Nevermind. I wait and wait till 10.09am in the morning, i still didn't see them!
They went backout & MIA!!
I could not wait for them anymore as i was going somewhere else to take stocks for the backpacks!
So I just leave around 10.09am and after getting the backpack stocks, i just went home.
I emailed them once when i reached home around 3pm plus!
See Picture below! *Click image to enlarge!
Till now, the supplier still MIA & refuse to reply my messages/calls!<
Their latest update was last year December'09!
I didn't notice it about their updates since they had replied me through email that their blogshop is still going on selling.
Yeah, I should have check all informations at first. I admit, this is my own fault.
*Click image to enlarge!
Wow! It was like so long and you didn't reply enquiries in your tagboard till it had full of advertisements,
& didn't even update their blogshop!
I think many of the blogshops got supply from them have not been receiving the item since last year.
You can check their tagboards.
They are just so irresponsible!
I went all the way from Hougang to City Hall and in the end it was just a prank/scam?
You can at least inform me that you didn't go instead of me waiting there like a fool!
Luckily it's instock & I didn't agreed to make payments first or else customers' money would be scammed!
13 June 2010, I went to look another supplier and successfully found one.
Although it was not so cheap, but at least i get the stocks!
I post this just to informed all blogshops out there to aware of this blogshop.
*Although sometimes the items might be really cheap, it might be a scam too.
There's no such cheap things in the world, unless the item was spoiled or not brand new. I've learnt my lesson.
If you want, you can deal with them at your own risk.
Do contact me through email if they had take any actions against us.
Thanks.
(All informations here are 101% real. Ignore this if you don't believe.)
Written On 15 June 2010, 12:27:02AM by theshopaholic-teens
.